"Project: Snowblind" video – Intro with gameplay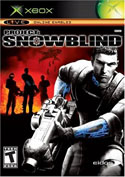 Quick Summary:
Project: Snowblind is an FPS that's essentially Deus Ex 3, but they changed the name and focused more on standard FPS action. It's a mostly linear game with lots of weapons, and a few "powers" you can use.
Game: Project: Snowblind
Level: Intro
Developer / Publisher: Crystal Dynamics / Eidos Interactive
Game Released: February 22, 2005
System: Xbox
ESRB Rating: T (Teen)
Spoilers: Intro
Played By: Tommy Gun
See also: "Project: Snowblind" Review.
You can watch this video at any of the sites below. Please see this FAQ entry for more information on these sites.
Choose a Site: YouTube
Download Hi-Res: Check the Downloads page.