Podcast #2 – Rock Band Drum Mods (Tommy Gun + Mojo)
There are a whole bunch of mods that can be, and should be, done to the Rock Band drums if you're serious about playing. How do you increase the sensitivity? How do you dampen the noise? What about that crappy bass pedal that always breaks? We discuss all of these things, and the different solutions people have come up with.
Contents:
00:00 – Introduction, Pad silencers/rebound
03:16 – Rock Band Drumsoft
09:44 – Sensitivity mods
15:22 – Bass Pedals
25:00 – Good Wood Mods
34 minutes, 13.5MB:

See a quick video of the mods at the bottom of this post, along with links to all things discussed (you might even want to watch the video first so you know what the stuff looks like when you listen). I also posted some score pics below to show my drums are working pretty well.

Corrections and Additional Info:
When talking about using a cymbal pad for a real drum pedal, I said you put it on the floor — I didn't mean flat on the floor, you put it perpendicular so the beater hits it like a real drum.
I forgot to mention that there is a licensed drum pad silencer set coming out for Rock Band. It probably isn't actually made by Harmonix, but it has the official logo on it. Not much info is known about that yet.
Regarding the Omega pedal: the switch is actually on the side, and the axle that the beater is connected to is what triggers it. Every time the axle turns, it hits the switch.
Videos:
Here is my drumset with some of the different mods we discussed [Update: new MUCH better pedal]:
Links:
Good Wood Mods – Support Struts
Rock Band Drumsoft – Drum pads. The ones I have are the Gum Rubber Composite.
Drum Modding 101 – TONS of links in this thread.
deepbluevibes' Infamous Sock Mod
The Rock Band Drum "In-between Sock Mod" (this is my variation that I was talking about. You can see photos here as well)
The Lazy Man's Authentic Drum Pedal Mod! – Make your own pedal
DESTROYER Pedal
Omega Pedal
Score Pictures:
Just some proof that my drums really are working at almost 100%. I have lots of gold stars, these are just a few that I took pics of.
I broke my streak on this one, but it wasn't my fault. (hey, I said almost)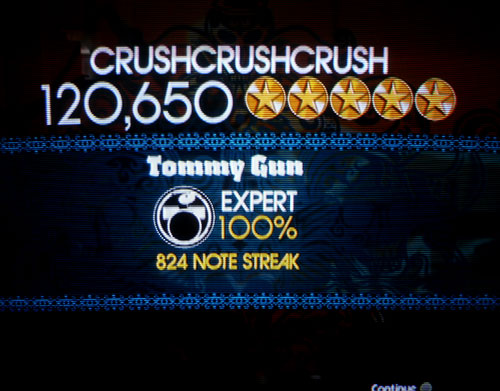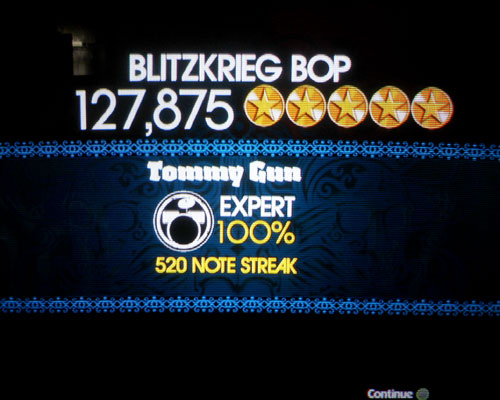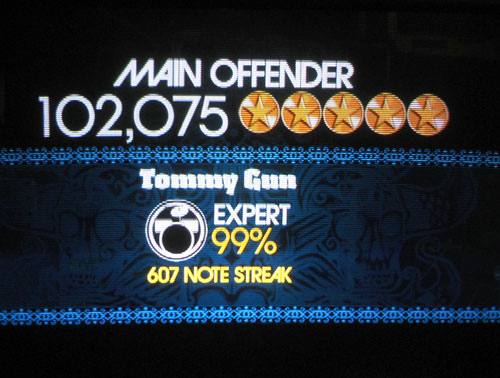 I mentioned this one in the podcast, this was right after I put the Drumsoft pads on: